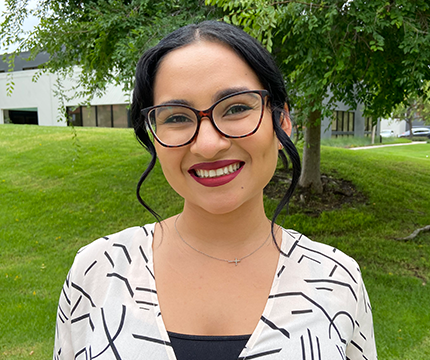 Cindy Andrade
Programs Assistant
Ms. Cindy Andrade serves as a Miracles for Kids Programs Assistant. She supports the Programs Department with internal case management by updating family and patient records, working on family profiles, and providing translation and communication services for Spanish speaking clients.
Prior to joining the Miracles for Kids team, Ms. Andrade worked for The Priority Center as an Outreach and Engagement Specialist where she coordinated community events and developed relationships with other non-profit organizations. Her previous experience as a preschool teacher allowed her to successfully lead educational workshops for several facilities, including senior, rehab and resource centers.
Ms. Andrade graduated from California State University, Fullerton with a Bachelor of Science in Child and Adolescent Development and has an Associate Degree in Liberal Studies with an emphasis on Teaching Education. She also holds multiple certificates in mental health through the OC Health Care Agency.
She lives in Santa Ana, CA where she enjoys giving back and making a difference in her community. During her free time, she enjoys dancing, going outdoors, reading a good book, and making memories with all her loved ones.