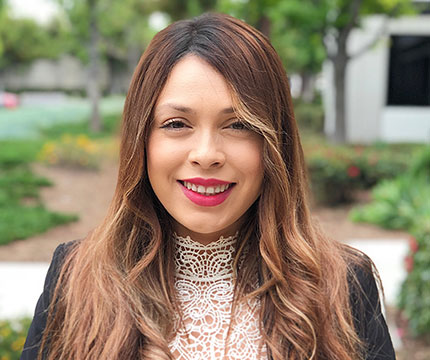 Maricela Acosta
Programs Manager
Mrs. Maricela Acosta serves as the Miracles for Kids Programs Officer, working directly with families in need of assistance. As the Programs Coordinator she enrolls families in the Miracles for Kids Bill Pay Program, maintains family records, assists families at Miracle Manor and provides translation and communication services for Spanish speaking clients. 
Prior to Miracles for Kids, Mrs. Acosta worked for the Child Abuse Prevention Center providing mental health services to the underserved population of Central Orange County. She managed the Outreach and Engagement department where she developed strong skills in direct staff support, program planning, relationship building and community outreach. Mrs. Acosta also provided case management, crisis intervention and mental health educational classes. Before that she worked at ProCare Pharmacy as a Pharmacy Technician focusing on children, adults and seniors as a diabetes educator at a variety of clinics, hospitals and homes in Orange County. 
Mrs. Acosta has a deep passion for the community and a strong desire to help people in need by positively impacting the lives of families and children. Mrs. Acosta earned multiple certificates in mental health through a variety of trainings at the Health Care Agency and received her certification as a licensed Pharmacy Technician at American Career College. She currently lives in Stanton, CA. During her free time, she loves to volunteer at Legacy Church, scrapbook, go on family trips and spend quality time with her children.