3rd Annual Home Runs for Kids Program
Our friends at Perricone Juices have doubled down for the 2020 MLB season, doubling its past donation of $250 per home run and will be donating $500 for every home run the Angels his this regular season! Each home run donation will provide a family with a sick child enough food or rental assistance for an entire month!
During the past two years, Perricone Juices, the largest manufacturer of premium craft juice in the Western US,  committed to donating $250 per home run through the annual Home Runs for Kids Program, raising nearly $100,000 to date to directly benefit Miracles for Kids' patient families. Perricone Juices is a longtime supporter and advocate of our mission, taking part in various programs and volunteer projects throughout the years. All funds raised will continue to benefit Miracles for Kids' mission to improve the lives of critically-ill children and their families in need.
Join us and Perricone Juices, as we rally behind the Angels as they fight for every home run, so our families can fight for their kids' lives.
CLICK here for up to date stats and home run counts.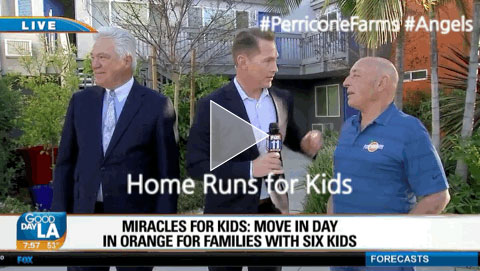 (Click the thumbnail above to watch the 2018 Home Runs for Kids announcement LIVE on Fox 11 Los Angeles News with Reporter Matt Johnson and Joe Perricone, Chairman of Perricone Farms, and Dennis Kuhl, Chairman of the Los Angeles Angels.)